Our Business
Renewable Energy Business
The energy business is undergoing dramatic change to meet the demands of society for new sources of energy and the engineering industry is drastically evolving with these changes. To meet these new challenges we are fully engaged in these new ventures:
Wind Power Generation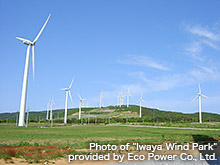 In the Wind Power Generation Project of COSMO ECO POWER CO., LTD., one of the Cosmo Energy Group companies, we are undertaking construction of a large-scale wind power generation plant. As the only engineering company involved in this project from the Cosmo Energy Group, we will play an active role in this energy business.
Mega Solar Power Generation
We are working on a number of projects of mega solar power generation equipment and facilities, from the application stage to obtain approval for construction to the actual implementation stage, by providing advice and assistance to respond to these changes in energy structure.