Project Cases
Project Case 3


Bangchak Refinery, Thailand: Hydrocracker Project
Project data
Customer Name

The Bangchack Petroleum Public Company (BCP)

Company Address

Bangkok,Thailand

Date of Completion

2008

Project
Name

Product Quality Improvement Project International joint project with CTCI,Taiwan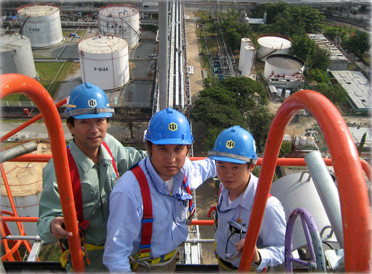 Bangchack Petroleum's Bangchack refinery is situated alongside the Chaopraya River, which flows through the Thai capital Bangkok. For over 40 years it has been refining petroleum products and is one of the most prominent energy providers in Thailand. To enact environmental protection measures and to improve the quality of petroleum products, the Product Quality Improvement Project is introducing state-of-the-art equipment including a hydrocracker.
This project was undertaken in partnership with CTCI, Taiwan's largest engineering company. CTCI has extensive experience within Thailand and has a good record of bridge engineering between the client and the Cosmo Group over many years so we jointly accepted the order.
Our responsibilities consist of ensuring that the newly installed equipment demonstrated their expected capabilities by closely examining the basic design documents, lending engineering and project management support, the procurement and inspection of high-temperature and high-pressure equipment and execution of the trial operation.
Along with the collaboration of CTCI we are working toward completion and handover by the end of August 2008.

Plant No.4 (process plant ppp) construction (April, 2009)