Project Cases
Project Case 9


Sakai Refinery of COSMO OIL Co., Ltd.: Construction of ETBE Production Facilities
Project data
Customer Name

COSMO OIL Co., Ltd.

Company Address

Sakai City, Osaka Pref.

Construction Name

Construction of ETBE Production and Acceptance Equipment and Facilities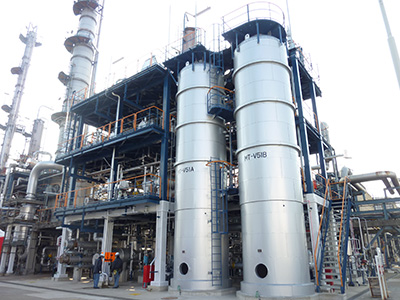 What is an ETBE Unit?
The concept of the ETBE unit is based on the proposals set forth in the treaty for global warming prevention, called the Kyoto Protocol. This is based on the idea that the use of bio fuels (bio ETBE blended) for automobiles can control the generation of greenhouse-effect gas which corresponds to the amount of ETBE-blended bio fuels. This unit produces bio ETBE with isobutene, a synthesized petro gas. The purpose of this project was to modify the conventional MTBE production system so that the unit could become capable of producing bio ETBE.
Commissioning
Commissioning commenced with the finalization of the completion inspection.
Two different technologies were used : The technology licensed by U.S. CD TECH for the major production process for this unit, and the technology licensed by Vogelbusch USA for the process that purifies ethanol, the ETBE raw material.
This means commissioning was conducted in cooperation with four companies: The customer, COSMO OIL Co., Ltd.,; the technical licensor of the major unit system process, CD TECH; the technical licensor of the ethanol purification unit, Vogelbusch USA; and our company as the major designer of this unit.
During the commissioning phase with overseas supervisors (from two companies!), it was important that we not interfere with the instructions given by these supervisors directly to the operators, but at the same time it was essential for us to maintain good communication among all parties concerned.
There were many challenges, but through mutual discussions with the customer and licensors, each time we faced difficulties we were able to solve the problems one by one and to complete the commissioning phase on schedule. This unit was successfully delivered to the customer on time.