Project Cases
Project Case 8


Sakai Refinery of COSMO OIL Co., Ltd.: Construction of No.2 Hydrogen Production Unit
Project data
Customer Name

COSMO OIL Co., Ltd.

Company Address

Sakai City, Osaka Pref.

Construction Name

Construction of No.2 Hydrogen Production Unit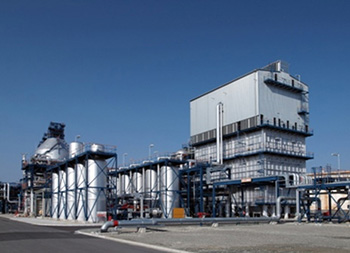 The largest hydrogen production unit in Japan as part of the Refinery Innovation Project (a group of heavy oil cracking units)
In order to further improve competitiveness and to respond to structural changes in domestic demands for petroleum, COSMO OIL built a group of heavy oil cracking units as part of the first innovation project of Sakai Refinery. This hydrogen production unit is one of these important units.
 The scope of our work covered engineering design including civil engineering work, procurement, construction (EPC), and commissioning. We started the design phase in May, 2007, and completed all of the construction phase and the preparation for commissioning by December, 2009. Starting commissioning in January, 2010, we started commercial operation in April the same year. This was quite a long-term project that took about three years from the project start to the project delivery.
This hydrogen production unit is composed of a box reformer from CB&I (formerly known as Howe Baker) based on our introduction of this technology and H2-PSA of UOP. Compared to the conventional units in the existing oil refineries, this unit has fewer decarbonation devices and reactors. This unit is also characterized by its ease of operation and maintenance and features that are energy-saving and cost-efficient. In addition, this is an environmentally friendly unit that can reduce NOx within the exhaust gas produced by 10 ppm. 
 As for raw materials, this unit uses the refinery's coker off gas and butane, and is capable of producing 1,200,000 Nm3/day of H2, with a H2 purity of 99.9%.
At that time, device manufacturers and construction subcontractors had their hands full with domestic and international projects including the China Olympics. Therefore, we had to push this project forward under difficult circumstances including the impact of the increasing cost of Ni-related materials.
Plant construction (the situation within the area and how to build a reformer)
1.Large equipment was moved by maritime transportation from Korea and received using a special landing pier.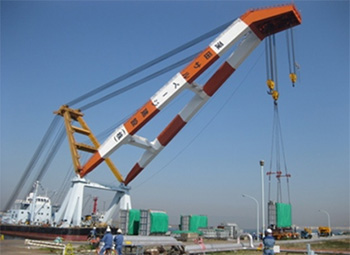 Maritime transportation
2.Special large vehicles that can freely slew were used from the pier to the installation site.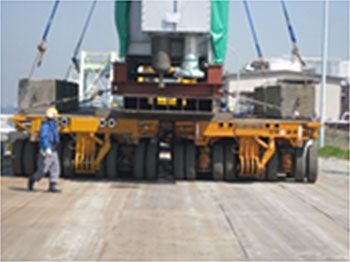 Land transportation of a special large vehicle
3.Construction was safely and efficiently completed in each separate area by using large cranes.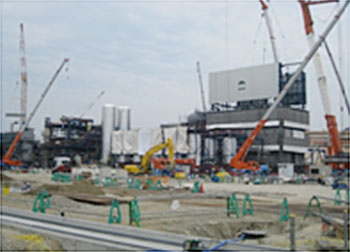 Entire construction site view
4.Assembly of the reformer, which is the main piece of equipment that produces hydrogen. The inside temperature reaches about 1000℃.
| | |
| --- | --- |
| | |
| Reformer assembly | Reformer assembly (inside) |
Project completed safely (with the subcontractors' workers)
From design to delivery, we were able to complete this project in approximately three years by utilizing the energy of about 120,000 workers from a wide variety of industrial fields. Thank you very much for your cooperation.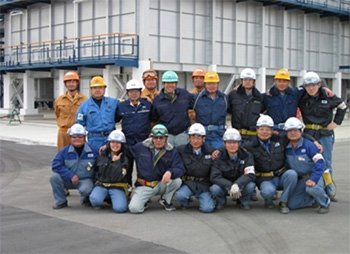 With the subcontractors' workers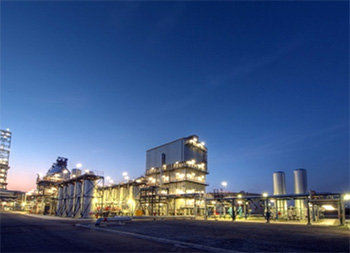 Entire plant view (at night)