Project Cases
Project Case 7


Yokkaichi Refinery of COSMO OIL Co., Ltd.: Construction of Mixed Xylene Distillation Unit
Project data
Customer Name

COSMO OIL Co., Ltd.

Company Address

Yokkaichi City, Mie Pref.

Construction Name

Construction of Mixed Xylene Distillation Unit

Date of Completion

November, 2011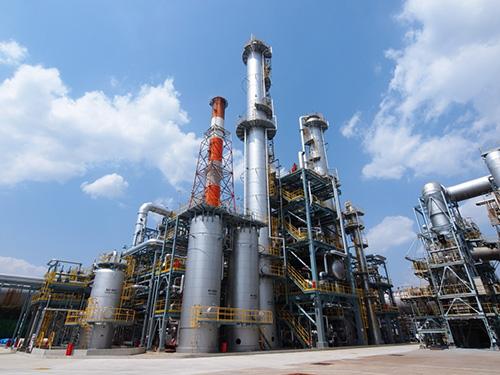 Mixed xylene is in high demand
Yokkaichi Refinery of COSMO OIL is located in Yokkaichi City, Mie Prefecture. This oil refinery functions as the base for the supply of oil to various locations in western Japan including the Chubu regions. Recently, mixed xylene, which is used as a raw material for polyester fibers and plastic bottles, has been in demand in China as well as other Asian regions. In this project we constructed the mixed xylene distillation unit within the premises of Yokkaichi Refinery as another base to expand into new business opportunities for COSMO OIL Co., Ltd. This mixed xylene distillation unit is capable of producing 300,000 ton/year of mixed xylene, with the capacity of 16,500 BPD, by utilizing reformed heavy naphtha as a raw material.
Transport and installation of the distillation towers
The construction site of this mixed xylene distillation unit was quite narrow and was surrounded by other equipment and devices in operation; in addition it was difficult to transport the entire toluene and xylene towers (Diameter: 3,500 mm; Height: 60,000 mm) in one piece, so we divided them in half and transported and installed them. We faced some difficult problems, such as performing welding work in such a narrow space. However, we were able to complete the entire project without having any major problems because of careful examination in advance and the cooperation of each construction operator.
| | |
| --- | --- |
| | |
| Tower installation work | Tower assembling work |
| | |
| External scaffolding work | After equipment installation |
Completion without any accidents or disasters
We had a very strict schedule for this project where we had to conduct KOM in November 2009, and then begin construction in October 2010. The project was scheduled to be completed by November, 2011. However, backed up by the wonderful cooperation between the owner contractee and prime contractor, we were able to complete construction of the entire project on schedule while achieving a record total of more than 520,000 hours without any accidents or disasters.