Project Cases
Project Case 6


Osadano Gas Center: LNG Satellite Station
Project data
Customer Name

Osadano Gas Center

Company Address

Fukuchiyama City, Kyoto Pref.

Construction Name

LNG Satellite Station

Date of Completion

2007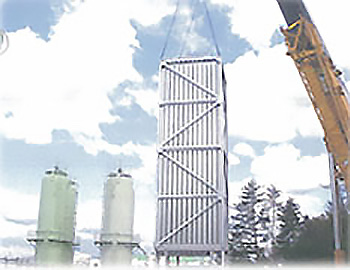 Osadano Gas Center has provided a steady and stable supply of city gas to their main clients centered in Osadano Industrial Park (a well-known industrial park in Japan) for more than 30 years.
In accordance with their domestic strategy, Osadano Gas Center decided to transform propane-based city gas (propane-air 13A) to natural-gas-based city gas.
We have worked on construction projects for this customer since the company was founded, and by drawing on the knowledge and experience gained from this long relationship, we were able to successfully complete this project. We worked with the customer on this project as outlined in the following work flow:
Removal and renewal of utility facilities, and removal of gas holders (in order to ensure construction land space)
Civil engineering work
Construction of LNG tanks
Installation of equipment and devices, piping and electrical instrumentation
Commissioning and gas supply test in the presence of the customer
In this project, a large number of residents and factories using the existing city gas facilities would have been greatly inconvenienced if service disruptions had occurred during the construction work; Extreme caution was exercised and great care was taken with the result that no disruption in normal service occurred during construction.
In addition, the installation of LNG storage tanks became necessary for work process reasons. Luckily, we experienced good weather during the normally severe winter season and with this good fortune, and with the helpful cooperation of the customer, this project was successfully completed.
We strongly believe that we were able to complete this project on schedule mainly because of the cooperation of the customer and our subcontractors, as well as the great deal of effort made by the local construction supervisor.
| | |
| --- | --- |
| | |
| Air-fin vaporizer / Installation conditions | Foundation work for LNG tanks / Bar arrangement completion inspection |