Project Cases
Project Case 5


Tosoh Corporation: Construction of No.2 CO Production Plant
Project data
Customer Name

Tosoh Corporation

Company Address

4560, Kaisei-cho, Shunan City, Yamaguchi Pref.

Construction Name

Tosoh: Construction of No.2 CO Production System

Date of Completion

December, 2007

Scope of Our Work

Design, procurement, and construction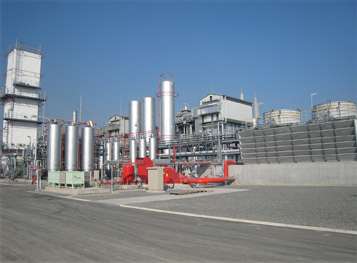 As part of this vinyl isocyanate chain business
Tosoh currently develops the Vinyl Isocyanate Chain Business based on coordination with Nippon Polyurethane Industry, one of their group companies. Currently, Nippon Polyurethane Industry is committed to build a new MDI plant that can increase the annual production by 200,000 t within the premises of the Nanyo Complex of Tosoh. This project will allow Tosoh to further enhance the competitiveness of their Vinyl Isocyanate Chain Business and to increase the presence of the Tosoh Group. Tosoh will expand their related facilities with production equipment for aniline, which is one of the main raw materials for MDI and carbon monoxide. As part of this Vinyl Isocyanate Chain Business, CEC participated in the construction project of No.1 CO production unit at the end of 2002. With our highly-acclaimed success related to this project, we received approval to begin No.2 CO production unit construction project.
The project which we undertook for No.2 CO production
The project which we undertook for No.2 CO production unit construction project consists of the following processes: (1) water addition and hydrodesulfunzation (2) pre-reforming (3) steam reforming (4) weast heat recovery (5) carbon dioxide gas removal (6) cryogenic separation.
The Howe-Baker method was adopted for the steam reforming process which is the core of this unit. We have abundant experience building hydrogen production plants with this method. The methane wash method was adopted for the cryogenic system that purifies and separates produced carbon monoxide.
We adopted the latest box-type reformer with improved operability and ease of maintenance with increased thermal efficiency, resulting in a more cost-effective production.
We received an offer for the construction of No.2 CO production unit from Tosoh in February, 2006, and signed the official contract in April of the same year.
We started to work on the design immediately after we received this offer. In September, 2006, a prayer ceremony for safety was held jointly with the adjacent Aniline Plant to be built. In November, 2006, we started civil engineering work for this construction project.
We completed the entire construction phase by the end of October, 2007. With the cooperation of Tosoh, we were able to confirm the plant performance without any accidents by the beginning of December.
We were also able to complete construction without any accidents or disasters and successfully confirmed the plant performance more than one month ahead of schedule. By so doing, the customer was completely satisfied with our superior results.