Project Cases
Project Case 1


Maruzen Petrochemical Co., Ltd.: Expansion Project of MEK 170,000 T/Y
Project data
Customer Name

Maruzen Petrochemical Co., Ltd.

Company Address

Ichihara, Chiba Prefecture, Japan

Date of Completion

2007

Project
Name

MEK 170,000 T/Y for expansion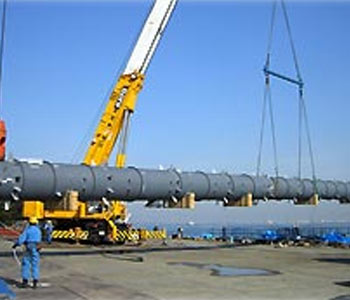 About Maruzen Petrochemical Co., Ltd.
Maruzen Petrochemical Co., Ltd. is a petrochemical manufacturer that jointly owns Japan's leading ethylene production facility. However methyl ethyl ketone is also a main functional petrochemical product.
In this project we expanded the capacity of MEK plant, making first use in Japan of domestic technology. The productive capacity of this facility was originally 13,000 ton/year. It was increased up to 170,000 ton/year this time. The demand for MEK, which is used in paint solvents, printing inks, adhesives, is expected to increase in Asia.
Our company has been involved for a long time, from the beginning, in increasing productive capacity of this MEK manufacturing plant, collaborating in its revamping, maintenance, renovating, energy saving and other ways.
Thanks to this project, the facility which by 2002 had been in creased to produce 140,000 ton/year was further improved to produce 170,000 ton/year during the 2006 regular maintenance period.
| | |
| --- | --- |
| | |
| Completion | Under construction |
Work flow
In this project, which began in 2004, CEC assisted in the basic design phase, conducted the detailed design, procured the equipment, and carried out the actual construction up to mechanical completion.
In the year prior to the 2006 regular maintenance period we went ahead with the revamping of the furnace, and the hydrogen compressor. Additionally, in recent years due to increased investment and demand, both domestically and internationally, the availability of raw materials and fabricated products threrfrom has been difficult. We had a case where the delivery of equipment was not obtainable in time. However we were able to obtain this equipment, not available at that time in Japan, at an early stage by procuring it from overseas, smoothly passing all the necessary steps for importation after local inspection, ocean transportation and customs clearance in Japan.
| | |
| --- | --- |
| | |
| Completion | Completion |
In the project a particularly challenging point was getting the work done effectively during the regular maintenance period. This included replacing large-scale equipment, pipework, maintenance and other work. For this reason during the preparation period we, along with the client and collaborating companies, conducted the appropriate investigation. This time, along with adjusting our schedule on a day-to-day basis during the work period, optimizing the delivery of equipment, and other measures, we were able to complete the task on schedule without any accidents or trouble.
From the procurement of equipment to the completion of the construction work, we conducted this project providing clear quantifiable explanations to the client and were open to communicate any changes, problems, or issues. In doing so we believe we were able to gain the trust of the client as we overcame hurdles and successfully completed the project.