Our Technology 【Environment and New Energy】
Purification Technology for Soil/Groundwater Pollution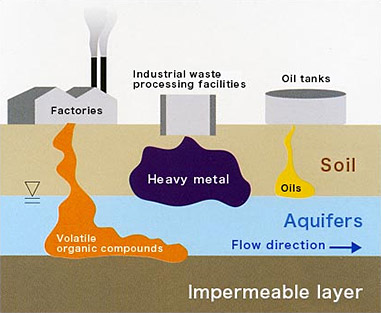 Providing Full Support for Soil Pollution from Research to Countermeasures
We plan and implement surveys as well as take necessary measures for the proper treatment of soil/groundwater pollution conditions related to the subjects contained in the Soil Contamination Countermeasures Act, such as organic chloride compound, benzene, heavy metal, PCB, and agrichemicals.
We can also respond to harmful oils and dioxins other than the above-mentioned materials.
| | |
| --- | --- |
| Features | We plan and implement necessary pollution surveys and emergency/permanent countermeasures taking into consideration the influence on surrounding facilities, devices, and equipment. |
| Benefits | Maintenance of the environmental quality standards for soil and groundwater, and prevention of the effects of pollution on the surrounding environment. |
| Major Application | Plants, oil tank facilities, gas stations, and industrial waste disposal facilities |
Outline
Soil/groundwater pollutants are broadly classified into the four categories described below. Survey and measurement items differ depending on each pollutant.
Class I Hazardous Material (VOC) >> Soil gas concentration (detected elution rate of soil)
Class II Hazardous Material (Heavy metals) >> Soil content, soil elution rate
Class III Hazardous Material (PCB's and agrichemicals) >> Soil elution rate
Dioxins (based on the Act on Special Measures concerning Countermeasures against Dioxins) >> Toxic levels
The actual research covers the range and level of soil/groundwater pollution in a three-dimensional manner by conducting a set of surveys described below in order to understand the pollution conditions of the targeted soil.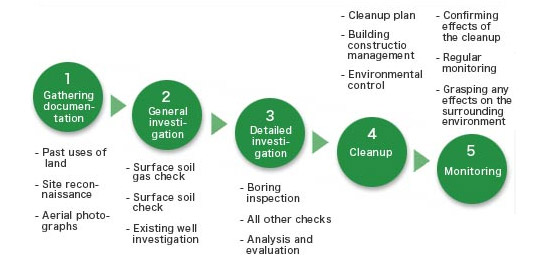 ---
Pollution Forms of Various Hazardous Materials

---
Countermeasures
Where our survey has identified soil/groundwater pollution, we try to implement permanent measures in order to maintain the environmental quality standards for soil and groundwater. If permanent measures are not possible, we implement emergency steps in order to prevent pollution from affecting the surrounding environment.
(1)Emergency Measures
Measures for prevention of soil consumption
Measures for prevention of groundwater consumption
Preventative measures for pollution of public water and groundwater
Preventative measures for scattering and volatilization of polluted soil
Preventative measures for spreading polluted groundwater
Confirmation of environmental influence
(2)Permanent Measures
Measures for soil/groundwater regarding heavy metals >> Purification and containment
Measures for soil/groundwater regarding VOC >> Purification
Treatment technology for soil/groundwater pollution >> Decomposition or separation